JUST CLIMB:DOWNHILL|EPIC PICKS
JUST CLIMB: DOWNHILL by ULVDIAZ
MAKES EPIC PICKS!
Today is an amazing day because Pro Creator Ulvdiaz is now featured under the Epic Picks tab! Maps that are selected for Epic Picks are personally selected by Epic from a massive amount of submissions! Creators are able to submit their maps for a chance to be a part of some of EPICS's chosen!

We are so proud to announce that Ulvdiaz has yet again made Epic Picks! It is an amazing achievement and so well deserved! With all the love and care he puts into his maps, we are so happy to see it featured as an Epic Picks Selection! Congrats Ulvdiaz!!!!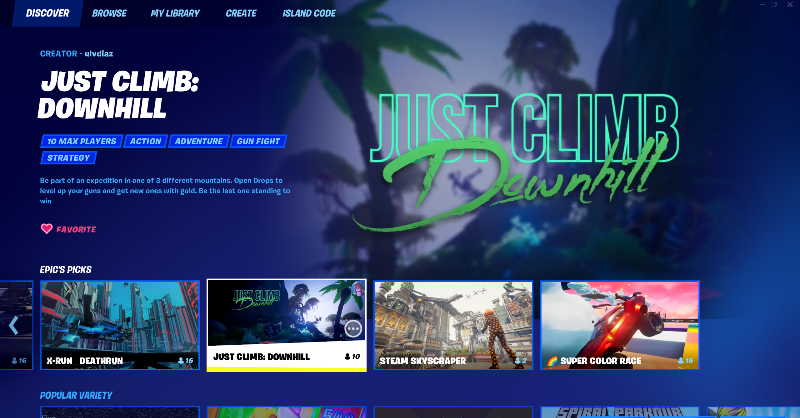 CHECK OUT THE MAP
MAP CODE: 4150-3426-5883
FEATURED STARTED WEEK OF: September7th, 2022
MAP DESCRIPTION:
Join an expedition through a variety of mountain terrains! Be the last one standing to win the game!
LINKS
Just Climb: Downhill on Epic
ULVDIAZ on Youtube
ULVDIAZ on Twitter